35.539699620992, 24.139966964722
---
---
Everything you need to know about Chania Airport – phone numbers, timetables, bus, car rental, taxi, parking, flights, arrivals and departures, etc.
-> Rent a car Chania
Chania Airport, also known as "Ioannis Laskalogiannis Airport" (IATA: CHQ, ICAO: LGSA), is an international airport on the Akrotiri peninsula of Crete, approximately 14 kilometres from Chania.
It is the second largest airport on the island, serving millions of passengers every year.
The airport is named after Ioannis Daskalogiannis, a Cretan revolutionary who led against the Ottoman Empire in Sfakia, Crete (1770-1771).
Chania Airport has a modern terminal building with all necessary facilities such as restaurants, cafeterias, duty-free shops, Hellenic Duty Free Shops, currency exchange, Baggage Carts, Lost Property, Baby Care and Breastfeeding Area, First Aid, ATMs, Car Rental & Internet Access (WiFi)
It is well connected to the rest of the island, with buses, taxis and car rental services.
In 2016 the expansion of the terminal and the renovation of parts of Chania Airport was completed, and in 2017, it was acquired by Fraport Greece.
Flights – timetables
Please note that domestic flights can be found for Chania – Athens and vice versa with Aegean Airlines – Olympic Air, Sky Express and Chania – Thessaloniki and vice versa with Aegean Airlines – Olympic Air, Sky Express, Ryanair).
There are several international flights from and to Europe and Israel in the summer.
Ryanair is also based in Chania with cheap flight tickets to Thessaloniki, Cyprus and cheap international flights all year round from and to Austria, Belgium, Bulgaria, France, Germany, Ireland, Israel, Italy, Malta, Hungary, Poland, Romania, Poland, Romania, Sweden and the United Kingdom.
Chania airport contact numbers
phone+30 2821083800
Baggage Search Ellinair, Aegean, Olympic Air +30 2821066065
Ryanair telephone does not exist.
Lost & Found +30 2821440124
Aegean & Olympic Air ticket office: +30 2821063366
Fax +30 2821066100
feedback www.chq-airport.gr/en/chq/feedback
Official airport site www.chq-airport.gr/en
Arrivals & Chania Airport Departures
Chania Airport Arrivals
Tips for smooth departures from Chania Airport
To ensure a smooth departure experience from Chania Airport, here are some tips to keep in mind:
Arrive early: Make sure you arrive at the airport with plenty of time before your flight. This will give you enough time to get through airport security and proceed to the boarding gate. Please note that security screening can take over 30 minutes during summer rush hours.
Pack wisely: make sure you pack your luggage according to airline regulations. This includes checking weight and size restrictions and any prohibited items.
Follow the safety regulations: Ensure you follow safety regulations, such as removing any liquids or electronics from your carry-on baggage.
Watch the departure board: make sure you watch the departure board for any updates on your flight status.
Information for People with Disabilities – Reduced Mobility
Disabled passengers and passengers with reduced mobility who need assistance to get to the airport must request in good time by contacting the airline or travel agent at least 48 hours before the flight's scheduled departure time.
Suppose a person with a disability or reduced mobility arrives at the airport. In that case, they should go to the check-in of the airline they are travelling with or to the signage to inform ground assistance providers of their arrival.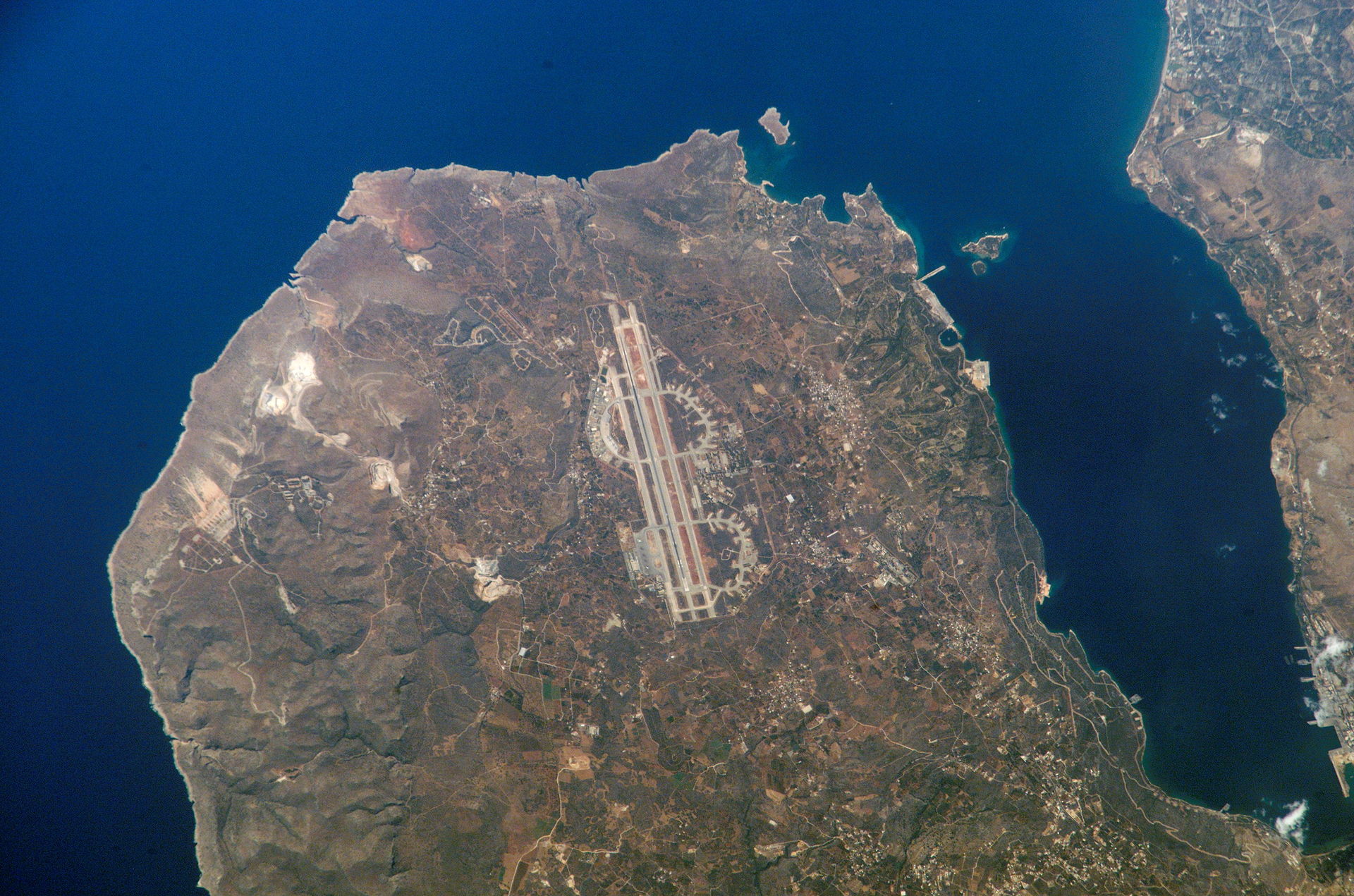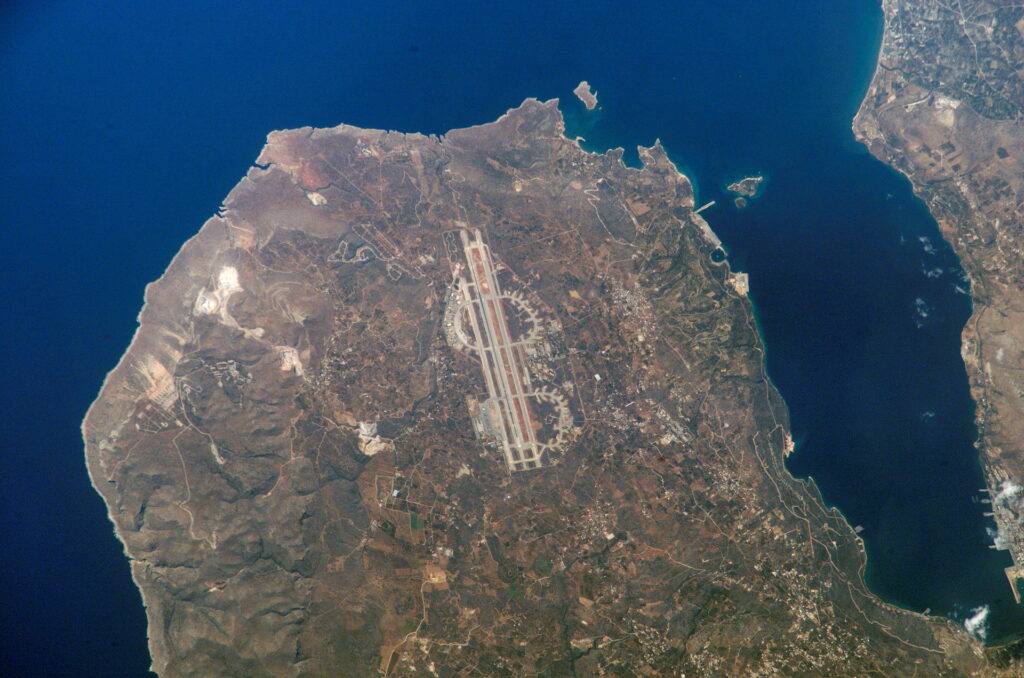 Position on the map
To help you get to the airport by car, enter the coordinates into your navigation device (GPS).
Latitude and longitude
35°32'24.39″N 24° 8'25.92″E
or
35.540108, 24.140533
Airline companies
The airlines that fly to and from the airport are: Aegean Airlines, AirExplore, AirSeven, Austrian Airlines, Blue Air, British Airways, Brussels Airlines, Buzz, Condor, Easyjet, Edelweiss Air, Enter Air, Eurowings, Finnair, jet2.com, jettime A/S, Lufthansa, Neos, Norwegian Air Shuttle, Olympic air, Ryanair, SAS Scandinavian Airlines, Sky Express, SmartLynx Airlines, Smartwings A.S., Smartwings, Sunclass Airlines, Sundair, Tarom, Trade air, Transavia, TUI Airways, TUI fly, Tus Airways, και Wiss air.