1.When was your first contact with electronic music and which record was the one that has inspired you to become a dj and next producer?
W – I was 17 years old and the track was Slo Moshun "Bells of New York". I heard it on a mix CD at a friends house and it was so great, that the only thing I could compare it to would be incredible sex. haha
J – I was about 9 years old in 1989, going to the skating rink all the time and heard Freestyle "Don't Stop The Rock", which was an classic Miami electrobass track from that year. I heard this robotic vocoder voice and I was like, I want that! I was pretty much hooked on electronic music after that. Around 1993, my older brother and sister exposed me to more of the early house/techno music that was coming out of the UK and Europe at the time and I started dubbing them to cassette tapes and bringing them to school for my friends. A couple years later, I bought my first turntables and started playing everything from electro, breakbeats to trance and progressive house.

2.When was your first production and for which label? Please tell us the influences that you have in your productions. How many release you have..?
W – My first release was with the late Hip-E (R.I.P.) called "Cut It Again" in 1999 on Tweak Records based out of Miami, FL. I've produced and remixed about 100 tracks since then.
J – My first record was J-Break – Cmon & Touch Me released in 2000 on my first record label, MBP. Since then, I've produced and remixed close to 150 tracks on labels in seven countries.
3.Tell us some words about Wutam & J-Break
Well we met each other at a latenight club called Mimosa that we used to both resident at back in 1999. Shortly after that, we started touring and making music together as well as doing our own solo productions and gigs as well. At one time, we were actually residents at competing latenight clubs in Orlando three nights a week. In 2002, we released our first licensed CD, which had tracks that were featured on four different mix compilations, Sirius & XM radio, as well as commercials for MTV. The title track eventually got picked up for re-release and remixed by a label in Istanbul, Turkey a couple years later. In 2005, we started doing live PA shows, where we performed all our own productions and remixes live for the first time. We toured around North America for awhile before Wutam moved out west. In 2007, we reunited and started producing and touring together again in support of our second album and new sub-label of Digital Records, called Blue Beam Recordings. In 2008, International DJs such as TIESTO and Hybrid started playing our tracks in their radio shows and mix CDs, and we hooked up with Juno Award nominated Melleefresh to do some tracks for her Play Digital label based out of Toronto, Canada.
4. Do you ever have people tell you that electronic music is not real music? What is your response to that? Is there any type of music that you hate?
Not really. Most people have been very supportive of electronic music now ever since its made a big transition into the mainstream with artists such as Madonna & Kanye West producing tracks with electronic influences in them. I think the United States is still a little bit behind from the rest of the world when it comes to press and promotion of dance music though, compared to the rest of the world. There's really no music we hate. Every type of music has its time and place. We feel its either good music or bad music. Thats the only type we hate. haha

5.A lot of your tracks and remake are one of the biggest tunes every year. Are there any other classic tunes that you would like to recreate in your style?
We love the old classic music and will continue to remix and remake covers of a lot of our favorite music. One of our new releases coming out through Sony BMG, & Universal is a remix of the classic "You Loving Arms" by Billie Ray Martin. Its one of those classic dance tracks from the 90s that are becoming very popular lately, like Cece Peniston "Finally" & Robyn "Show Me Love."

6.What kind of equipment do you use in your production set up? Which one is the software or hardware that you enjoy more to work with?
We use a mixture of hardware and software setup, which has the benefits of both. We love the smooth analog sound, but the digital age has brought a lot of advances in writing music, such as programs like Ableton Live. We use a lot of Moog keyboards like the Minimoog and Micromoog, as well as midi controllers to trigger samples and VSTi's. We both used the Akai MPC2000 regularly in the past, because of its built in sampler, sequencer and drum machine, as well as its onboard effects. We currently produce on a PC, but will probably make the switch to MAC some time in the near future.
7.Any news, updates, new productions, events, etc that you would like people to know about?
We just released our third album, "Night & Day," which has done pretty well for us, charting #1 on DJdownload & Beatport. com, and featured on a few internet & magazine reviews as well. It features our new style mixture of progressive, techno and electro house with loads of vocals, including some of our own as well. In March, we will be releasing our fourth album "California Girls," and doing a worldwide tour starting in Miami for WMC and Europe shortly after that. Unlike our last album, which was mostly all our own original tracks, this new album will feature many different artists from around the world that we have remixed in the past few months.

8.Best three international clubbing cities / clubs and why? Where is your favorite place to DJ? What is the biggest difference between Europe and America clubs/clubbers?
Probably the best cities we've played at were at The Limelight in New York City, London, UK, and Barcelona, Spain. We love to play in other countries because the demand and energy is so much higher than it is here in the states. The crowds really love to dance to the music and don't care what the others around them think. It's really a big difference when it comes to the vibes at the club. Americans have a strong appreciation for the electronic music, but we still have a lot to learn from the rest of the world when it comes to the scene.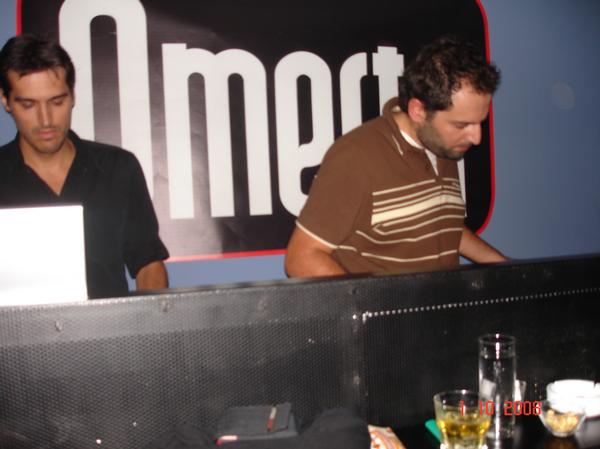 9.What is your opinion about the web radio? Do you see internet vital tool in the expansion of dance music culture today?
Web radio is definitely a large improvement from todays local FM radio in terms of dance music. While FM is geared towards pop music, rock & hop hip, the internet will play anything that's good, regardless of the genre of music. We rely on the web radio stations and DJs to promote and support our tunes, and keeps the fans updated with our new releases and where to buy them. I don't know what we would do without them, to be honest.
10.Your current top 4 tracks and your favorite all time classic and why? Is this connected to a special moment in your life?
Current:
1. Hatiras – Fly By Night
2. Wolfgang Gartner – Clap
3. Tiga & Zyntherius – Sunglasses at Night – Popof Remix
4. Steve Smooth, JJ Flores & Colette – Stay – John Dahlback remix
Classic:
1. Dynamix II – Atomic Age
2. Infiniti – Children of the 80s
3. Westbam – Terminator
4. Union Jack – 2 Full moons & a Trout
These classic tracks bring back memories of the first years of DJing in the 90s when everything was brand new in the electronic music scene, and everyone was just starting to become exposed to the type of music that was coming out years earlier overseas. Before MTV started playing electronic videos on tv, most people had never heard of this music before and didn't even know what to call it.

11.Would you like to share with us your best and worst memory from a dj performance?
Best memory is playing for 100,000 people at Ultra Music Festival in Miami and Love Parade in San Francisco. Both were amazing because there was so many DJs and fans from around the world that came to celebrate electronic music. Worst memory would probably be playing the last night of our favorite residency at Cyberzone in Orlando, when it was shut down by the police and local officials in 2001.
12. I tell you one words…and I want to tell me the first thing you think…
i. holidays: Food
ii. hero: God
iii: car: Skyline
iv: movie: Coming to America
v:destination: California
vi: life: Bitch
vii: afterlife: Heaven
viii:sky : Falling
ix: family: : Love
x:woman: Lust